LINKS
If you know of an excellent Star Wars site that is not listed, please email me so I can take a look.
•FATZ: THE STAR WARS CREATURE DATABASE

WEB RINGS





This Star Wars the Web Ring site is owned by Chadd C Collier.


This Death Star site owned by Chadd C. Collier.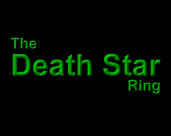 Previous | Next 5 | Join | Random | List | Next


This Ultimate Star Wars WebRing Site is owned by Chadd C. Collier

MAIN PAGE

Disclaimer: Star Wars and all related characters, trademarks, and graphics are all property of Lucasfilm Ltd.